GP Chiangmai Travel and Trade

Visit Thailand Year
Chiangmai: Rose of the North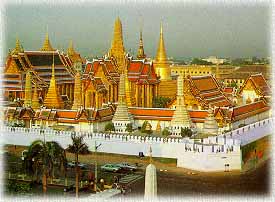 The Emerald Buddha Temple, Bangkok
Thailand offers the visitor some of Asia's most beautiful and varied scenery, from forest-clad mountains to green valleys, lush rainforests, azure seas, and tropical islands. Its brilliant sun has nurtured a robust culture rich with antique temples, vibrant art, a succulent cuisine, and presided over by a sunny, hospitable people. The kingdom is divided into five key regions, each with a unique history and culture. The Central region includes Bangkok and surrounding provinces. Chiang Mai is the capital of the Northern region while Nakorn Ratchasima (a.k.a. Korat) is the gateway to the Northeast or "Isan" region. Phuket and Hat Yai are the principal cities of the Southern region. The East Coast is dominated by Pattaya, 135 kilometres southeast of Bangkok, and one of Asia's most popular beach resorts.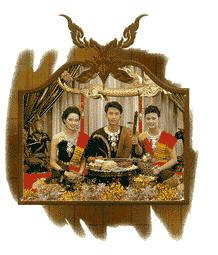 Staffs
GP Chiangmai Travel and Trade Co., Ltd. is a high standard travel agent in Chiangmai specializing in tailored vacations and package programmes such as Bangkok, Chiangmai, Chiangrai, Mae Hong Sorn, Krabi, Koh Samui Island, and Phuket including: Special Hotel Discounts around Thailand and Maldives, World-wide Air Ticket, Car Rental, Laos/Myanmar Visa Arrangement, Sight-seeing Tours, and Trekking Tours.

GP Chiangmai Travel and Trade Co., Ltd. is set up and managed by a former airlines staff who has 15 years experience in Airlines Industry, Hotel Business and All Travel Aspects. Please feel free to contact us for more informations on our services and products:
Thai New Year Eve-12-15 April, Chiangmai
Thailand, a popular tourist destination with sights and charms pecullar to itself and the picturesque Northern region of which it is the centre, is "Chiangmai or Rose of the North". Chiangmai located 700 kilometres north of Bangkok whereas Bangkok is a mere 200 years old, was founded by king "Meng Rai" in the late 13th century and is one of the oldest continually inhabitted settlements in Thailand. Chiangmai is the political and geographic capital of the North by virtue of its central position and size. As Thailand's second largest city, it is home to some 1,570,000 people. Chiangmai people have their own lilting dialect, their own customes, their own architectural traditions, a wide range of indigenous handicrafts, their own dances and cuisine.

Copyright 2001, all rights reserved
GP Chiangmai Travel and Trade Co., Ltd.
G/Fl., Supanich Condominium, 8/2 Rail Road, Wat Kate District, Muang, Chiangmai-50000, THAILAND
Auto Voicemail/Fax: 02.6414582/3 code: 17701 # (24 hours) Mobilephone: +66.(0) 6.6541145 Email: harnsakda@softhome.net
Website: http://gpcnx.tripod.com